Wedding Florist Melbourne
Weddings today feature the most stunning floral arrangements; flowers are so essential to a wedding, and any mistakes can make or break the most special day of your life.Â
Choosing wedding flowers isn't an easy task. You need to pick flowers that symbolize true love, innocence, faith, and strength of relations. These flowers are often elaborate and add romance, happiness, and joy, as well as a beautiful scent to your special day
If you are wondering what flowers to use at your wedding venue, our ultimate guide will put you on the right track. Without further ado, here are ten of our top recommendations for wedding flowers that will make your wedding day unforgettable!Â
Roses
Photo by Photos by Lanty on Unsplash
Roses are the traditional choice for weddings. They represent a classic time-honoured choice and give your wedding that feeling of love and purity.Â
There are many ways to assemble a bouquet of roses to make them stand out and feel unique. Most brides choose white roses, but red, crimson, and pink work just as well for weddings – it all depends on the colour scheme for the event.Â
Most rose species are deliciously fragrant, which will give your wedding a beautiful scent. Use these classic flowers in your ceremony and reception arrangements, as well as in wedding bouquets, corsages, boutonnieres, and even cakes.
Gardenias
Photo by Irina Iriser on Unsplash
Gardenias are a species of evergreen; they retain their dark green leaves all winter. These beautiful, open flowers are native to Japan and Southern Asia and represent grace and elegance. If you're throwing your wedding in the summer, don't pass up the chance to include some gardenias in your event. Although they may cost a pretty penny, mix them in with some inexpensive flowers like baby's breath and peonies as an affordable option.Â
Gardenias have no stem, so they're perfect for table arrangements, perhaps floating in a crystal bowl of water with candles, or even pinned to the hair of the bride and her party. Â
Sweet Peas
Photo by Annie Spratt on Unsplash
Sweet Peas, known in Latin as Lathyrus, and native to the island of Sicily, are beautiful, light, scented flowers, an ideal option for any summer wedding. They are a perfect choice for wedding ceremonies as they carry the meaning of blissful pleasure.Â
These delicate flowers come in a range of colours with the most popular being white; they also come in purple and coral pink, and coral. Sweet peas are popular in wedding bouquets, in vases, and garden arrangements.
Calla Lillies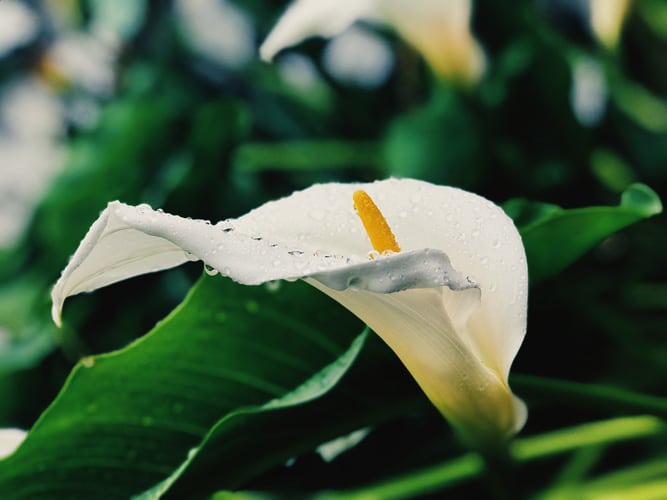 Photo by John Bussell on Unsplash
Calla Lillies are renowned for their beauty. These eye-catching lilies symbolize purity and innocence. A native of Africa, the large calla lily flower makes a powerful statement in weddings and is popularly used in spring or summer weddings. These flowers come primarily in white, but also in yellow, purple, and pink.
Giant Cala Lillies with long stems are perfect for making bouquets, while the smaller varieties are perfect in boutonnieres. This elegant wedding flower is quite expensive but available year-round.
Ranunculus
Photo by Alesia Kazantceva on Unsplash
Ranunculus blooms feature delicate petals and a full-colour variety making them perfect for themed, autumn or winter weddings.Â
These budget-friendly flowers are bright and cheery and come in a variety of colours, including red, white, yellow, orange, and pink. They have tightly formed petals that make a stunning display. Pair them with a variety of flowers including roses, to make your budget go further.
Hydrangeas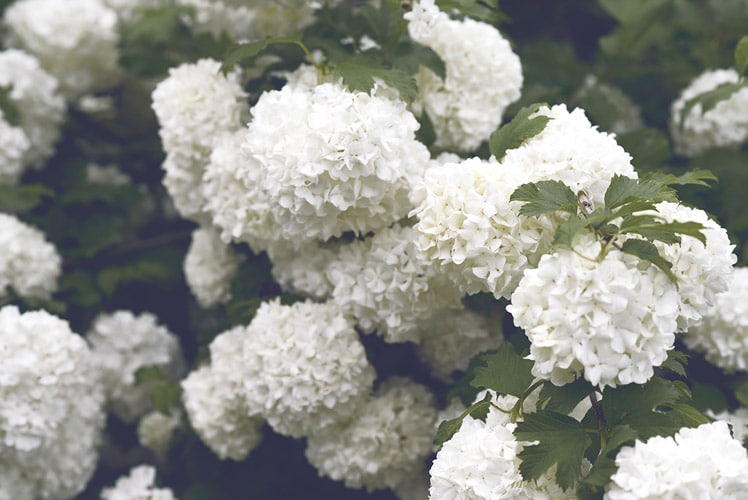 Photo by Maria Lazurenko on Unsplash
Hydrangea is one of the most popular wedding flowers out there and is available through the seasons. These unique flowers that mostly come in white, pink, and purple, resemble a beating heart, so they are often included in weddings to symbolize emotion, love, and perseverance and emotion.Â
They have large petals and bloom large, creating an unmistakably beautiful display. These gentle giants are also budget-friendly; use them on the feasting table as a bold centrepiece or place one or two sparingly in your wedding bouquet.
Peonies
Photo by peter bucks on Unsplash
Although expensive, if you want to splurge, the peony is the perfect choice of wedding flower. These flowers are best suited to spring or summer weddings and exude a lush, fragrant scent while providing the ultimate romantic look to the event.
The blossoming petals work great paired in a bridal bouquet with other pastel flowers. Peonies come in white, pink, or red, but you can also find them in shades of coral and mahogany.
Tulips
Photo by Roman Kraft on Unsplash
The versatile tulip, which is a popular choice in many flower arrangements, is also perfect for weddings. They may be relatively expensive, but they are available all year round.Â
This pure beauty with a clean profile comes in seventy-five species varieties of white, yellow, pink, magenta, red, and purple.Â
These blooms depict 'consuming love' so provide the perfect symbolism for weddings. Use them in event decoration, table centrepieces, wedding bouquets, and boutonnieres.Â
Dahlias
Photo by Tina Witherspoon on Unsplash
Dahlias bring sophistication and a fairy-like charm to s, making them a favourite in modern, summer ceremonies. Their round petals make a bold statement in any bouquet.Â
What makes dahlias an attractive choice for bridal bouquets is that they're practical but stunning. Pair these flowers with some greenery to make them go further. Â
Baby's Breath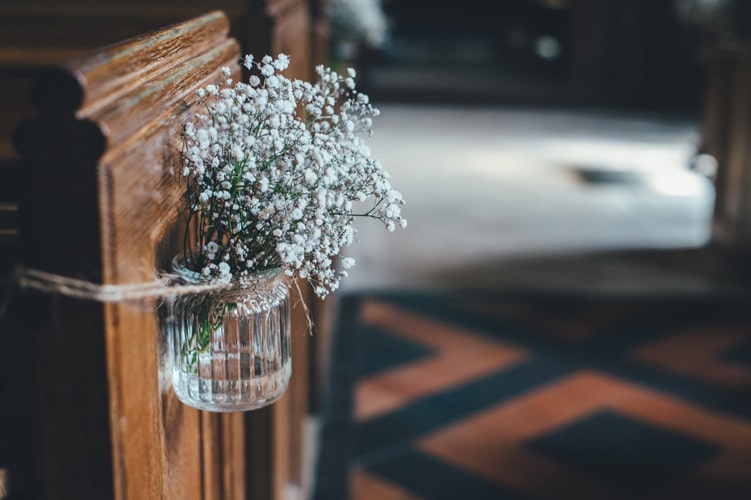 Photo by Annie Spratt on Unsplash
Although these flowers are often paired with others their own, used on their own they add such beauty to bouquets, on pews, or in general event decoration. Â
Baby's breath symbolizes purity and innocence and is an inexpensive floral option for your event décor and as a filler flower in your bouquet or table centrepiece. They are also perfect as low vital additions to the boutonniere for the groomsmen.Â
Wrapping It Up
There's no wedding without flowers. Wedding flowers add a unique ambience to your venue and help to create fairy tale surroundings that you and your guests will find hard to forget. Make a statement with and say it with flowers for the ceremony, reception, and bridal party.Â
If you're planning a wedding, we have a vast range of unique wedding flowers and other gifts at any of our physical stores or in our online shop that will make your event. We can come to your venue and help you to plan elaborate arrangements to impress at affordable prices. Contact us or pop into any of our stores during business hours to book a free consultation and quotation with one of our florists.