Melbourne Wedding Florist
Weddings often come with so many mind-boggling decisions that it can be easy to overlook the choice of flowers for your special day and what, if any, meanings they hold.
You should always, first and foremost pick a bloom because you love it. However, individual flowers may have meanings that are not exactly conducive with the mood of the day. For instance, carnations mean, "I will never forget you," but could also say, "I refuse you," not a message you want to be sent out on a day celebrating the joy and purity of genuine love.
The Language of Flowers
In the Victorian era, flowers were widely used to convey secret messages that could not be shared openly. A gentleman keen on a ladies affections would send them a bouquet of mixed geraniums to ask if they could expect to see them at the next town hall dance.Â
So you can see how the language of flowers is incredibly poignant and memorable and cuts straight to the heart. No wonder flowers are front and centre at wedding celebrations, one of the most significant events in a person's life.Â
If you're wondering which flowers can convey what you want to say as a couple on your wedding day, here's a handy guide to the meanings that seven popular wedding blooms carry:
Roses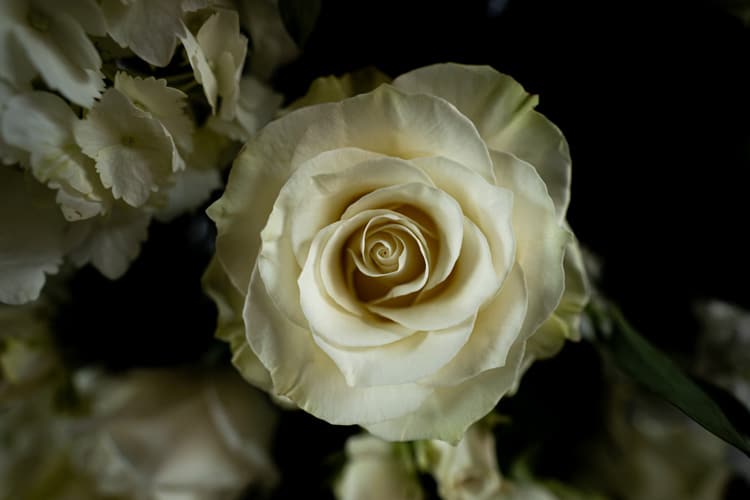 Photo by Mike Marrah on Unsplash
The meanings of roses differ mainly by colour. Roses are the quintessential wedding flower, and their purposes can send beautiful messages to tie up your beautiful day. Â
Choose:
Burgundy roses to speak of unconscious beauty.
Lilac and purple roses to represent love at first sight or enchantment.
Orange roses to symbolise fascination.
Pink roses to convey grace.
Red roses to symbolise passionate love.Â
White roses to convey innocence, purity, and humility.
Peonies
Photo by peter bucks on Unsplash
Peonies are a spring flower, and as most weddings fall in the spring-summer season, they are a favourite with many brides.Â
However, ensure that you avoid the red variety, as this could convey anger and bashfulness – messages you may not want communicating on your big day.Â
This myth comes from Greek mythology; a beautiful nymph known as Paeonia attracted the attention of the Greek God Apollo, who flirted with her. Aphrodite was watching them, and when Paeonia realized this, she became bashful and turned red. In anger, Aphrodite changed her into a red peony, and that is how red peonies came to convey anger and bashfulness.
Excellent peony colours that would make appropriate additions to your wedding décor include:
Pink peonies to symbol good luck, honour, compassion, and prosperity; they are actually the official flower of the 12th wedding anniversary.
White peonies to convey purity, love, and romance.
Lilies
Photo by Doug Kelley on Unsplash
The white Madonna Lily is most commonly associated with sympathy. Their actual meaning, however, is 'majesty and virtue' These flowers make majestic and elegant to convey royal standards in a classic wedding.
Other colour lilies that could add potent symbolism to your wedding celebrations are:
Orange tiger lilies to claim confidence and wealth into your marriage.
Pink stargazer lilies for abundance and prosperity.
Red lilies to convey passion.
Yellow lilies to symbolise thankfulness and enjoyment.
Tulips
Photo by Giu Vicente on Unsplash
If your courtship was full of passion and grand gestures, the tulip might be the wedding bloom for you, as it is often used to make an open declaration of love.
Other wedding-appropriate meanings for tulips are:
Cream – to declare undying love.
Orange – to speak of the understanding between two people, especially couples.Â
Pink – to convey good wishes.
Purple – to message royalty and nobility, or rebirth.
White – for newness, purity, humility, and innocence.
Yellow – to convey happiness and friendship.
Freesias
Photo by Filiz Mehmed on Unsplash
Are you a couple that began your relationship as friends and then blossomed into lovers? Freesias are the ultimate flower to convey this magical transformation in your relationship as they speak of lasting friendship.Â
Freesias have a lovely fruity scent and are perfect for bridal party bouquets. However, avoid using them on the banquet table centrepieces as the fragrance might interfere with dinner.
Some excellent colours to choose from include:
Multicoloured freesias to convey thoughtfulness and friendship.
Pink freesias to speak of motherly love.
Red freesias to symbolise passion.
White freesias to symbolise innocence and purity and innocence.Â
Yellow freesias to speak renewal, joy, and friendship into the marriage.
Chrysanthemum
Photo by Yurii Stupen on Unsplash
If you want your wedding to scream abundance, wealth, and truth, chrysanthemums are the perfect affordable flower to choose. They come to win several colours, each symbolising a special meaning to add to the specialness of your day.
Use:
Red chrysanthemums to convey passionate love.
Pink chrysanthemums for grace
White chrysanthemums symbolise honesty and loyalty.
However, whatever you do, do not use violet chrysanthemums as they are widely construed as a "get well soon' wish and yellow chrysanthemums, which symbolise sorrow and neglected love.
Gardenia
Photo by Irina Iriser on Unsplash
Gardenias are petite but striking flowers, with an intoxicating scent.Â
The white varieties represent joy and purity, ideal messages for wedding celebrations that set the mood and ambience of your wedding ceremony.
If your gardenia flower has a yellow tinge at its base, do not use it for your wedding. This flower represents secret love, which could send the wrong message of adultery on your big day.
Have we missed any notable wedding flowers that you would have liked to see our list above? Feel free to let us know your thoughts by commenting below and contact our expert florist at InFullBloom by calling 03 9696 1688, sending a message online, or popping into our shop for more advice on the best flower choices for your Melbourne wedding.