Valentines Day Flowers Melbourne
The best flower shop in Melbourne, In Full Bloom, understands the power of love and the significance of Valentines Day.
Let us be your partner in creating an unforgettable experience with our stunning Valentines Day flowers Melbourne locals adore.
Our thoughtfully curated collection features a breathtaking array of blooms, from velvety roses to delicate tulips, meticulously arranged to embody the very essence of romance. With meticulous attention to detail and an unwavering commitment to quality, skilled florists ensure that each petal radiates beauty, symbolising the depth of your love and emotions.
Celebrate the power of love with our exquisite Valentines Day flowers Melbourne locals love. Order yours now and let the best flower shop in Melbourne, In Full Bloom, help you create a moment of pure romance and connection that can put a smile on your loved one's face. Embrace the beauty of love and ignite passion with our captivating floral arrangement that conveys your heartfelt expression of profound affection and desire.
Valentines Day Flowers
Valentine's Day is a celebration of love and affection, and what better way to express your heartfelt emotions than with stunning Valentines Day flowers?
At In Full Bloom, we are dedicated to helping you make this special day unforgettable with our exquisite floral arrangements. Spread love and joy this Valentine's Day with In Full Bloom's Valentine's Day flower collection and delivery services trusted for over 30 years.
Create magical moments and heartfelt connections with our selection of exquisite blooms, from romantic roses to delicate orchids expertly arranged to convey your deepest emotions. Create a moment that speaks volumes without saying a word with the beautiful and freshest blooms from the best flower shop, In Full Bloom.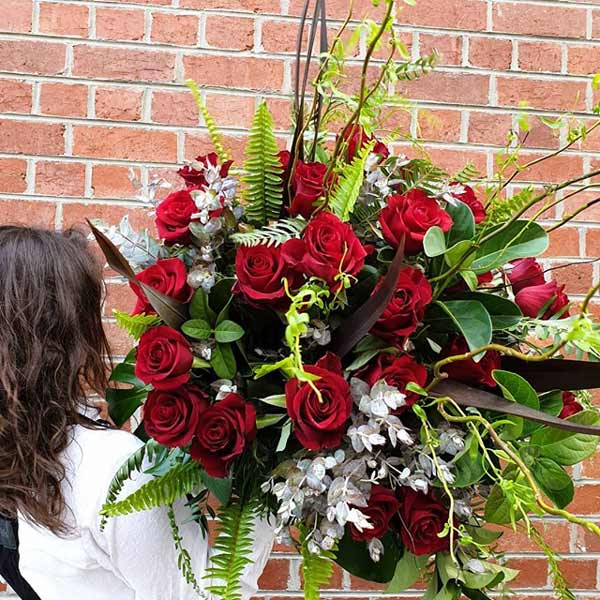 Celebrate this Valentine's Day with our convenient and reliable Valentine's Day flower delivery service, bringing a delightful surprise to your loved one.
With our timely and reliable delivery, your Valentines Day flowers will arrive fresh and vibrant, adding an extra touch of joy to the occasion. Trust In Full Bloom to deliver not just beautiful flowers but also the love and thoughtfulness behind each arrangement.
Make this Valentine's Day remarkable with our exceptional flower delivery service and experience the joy of sharing love in its most enchanting form.